Scroll To View More

Highlights
National Maintenance Agreement (the Agreement) is between an Employer (Contractor) and the International Union(s) (Not the local union)

Owners are not signatory to the Agreement
14 building trades crafts
Agreement does not cover superintendents, office/clerical personnel, company management as defined by the NLRA.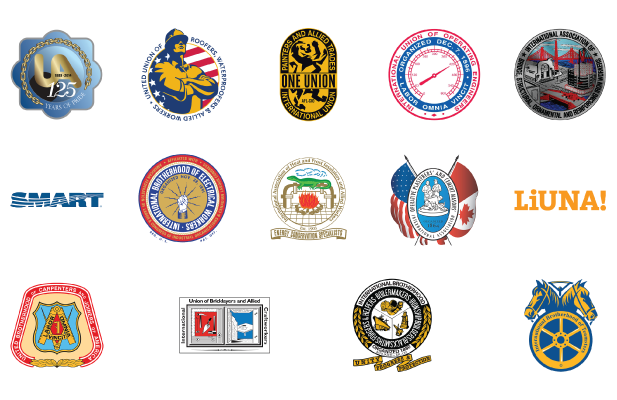 Work covered by this Agreement includes: industrial construction, maintenance, repair, replacement, renovation, and modernization work.
All Employers are required to conduct a pre-job conference prior to commencing with work (See description below for items to identify)

Notify appropriate local BCT and all NMA International Unions of time and place
Pre-jobs may be conducted via telephone
Reference NMAPC Policy Decision I-3
Employer must provide written work assignments within 10 days of pre-job
Failure to follow these steps could result in $500 fine against the Employer.
Employer agrees to make work assignments to the appropriate Union per NMA work assignment criteria

Decisions of Record
Attested Agreements
Established trade practice
Or prevailing area practice
Vertical Agreements are not recognized under the NMAPC Program
Should a work assignment dispute arise, the Agreement outlines a step-by-step procedure for the resolution of said work assignment dispute (Reference Article I- Recognition, paragraphs 6-13)
Any participating Union or Employer can refer a work assignment dispute to arbitration for resolution by written notification to the NMAPC Impartial Secretary
Please note there shall be no disruptions to the progress of work in the event a work assignment dispute arises. (to learn more please call the NMAPC office, display contact info)
I-4 – Vertical Agreements

Outlines and reaffirms the NMAPC's position that vertical agreements under the NMAPC program shall not be utilized
Employers working under vertical agreements for NMA work risk the cancellation of their Agreement/Agreements
I-5 – Failure to Hold a Pre-Job

Provides clarification that any of the 14 participating International Unions may file a grievance against an Employer that fails to conduct a pre-job conference
The NMAPC may issue monetary penalties against an Employer found to have failed to conduct a pre-job conference